Magda Urbaniak is the global community manager at Brand24, which builds strong, positive relationships over brands regardless of time and geographical distance. We recently spoke with Magda about effective Internet monitoring and best practices for dealing with commenters on social media and through text messaging.
How does Brand24 help companies or brands accomplish their goals?
Brand24 is a social media monitoring tool. We track all public mentions gathered across the Internet. The tool supports social listening, lead generation, and social selling.
We help improve customer care and build loyal communities around brands. Brand24 is very effective in gaining feedback, finding trends, and reacting to all positive and negative reactions around a particular brand.
What are the main platforms or sites that people use today to comment on brands, products, or services? Do they differ depending on the age group of the commenter or the industry/space of the brand?
People are active on all social media platforms. They spend their time, share good and bad moments, and comment on events, brands, or products. There are dedicated places for specific industries. For marketers, Quora is the natural environment. For design and food, it can be Pinterest. For agriculture, it's YouTube channels. Many sectors have their own discussion forums and blogs, and people go there to discuss things. Social media monitoring helps to find the place where users are the most active.
As a rule of thumb, how promptly should you respond to an online question or complaint about a brand or company?
There is one correct answer: immediately. No matter how much time you need to prepare a complete statement. React as soon as possible. Show you know what's going on and that you care. It can be just a short response such as, "Thanks for the comment, we're working on it. We'll get back to you soon." (and then really get back to them). Then you have some time to discuss it with your team or get whatever approvals are necessary.
It's interesting to see that your company uses "sentiment analysis." Is it really possible to categorize written comments by intent or tone? How well are you able to weed out sarcasm?
Sentiment analysis is generated automatically. It identifies words that have strictly positive or negative connotations. It won't find sarcastic or ironic comments, but it will show trends. It's a very valuable indicator. Noting whether comments are 90% positive or 40% negative enables you to clearly see what the temperature of emotions around your brand is.
Could you give us an example of how a social media manager could see some online comments, identify an opportunity to improve their business or brand, and immediately tweak or execute a strategy to capitalize on this opportunity?
Sure. Check out this screen shot: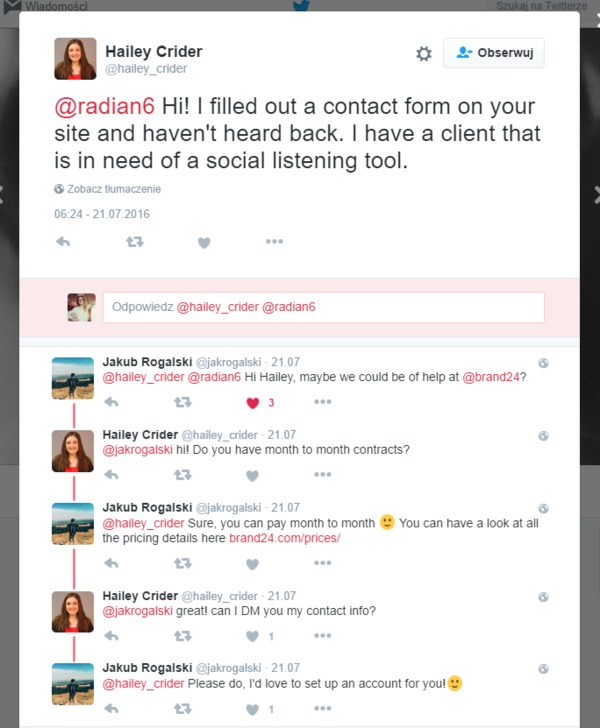 Being up to date with certain keywords and reacting fast helps to find the right discussion with which to engage. We won this client because we were the first to respond and we knew what to do.
Wherever you have social media, you're probably going to have "trolls." How much of a problem do trolls present for a brand, and do you have any tips on how to deal with trolls?
We need to distinguish between trolls and haters. Trolls are people who want to clip your wings just for fun for and for no particular reason. Haters refer to people who are disappointed with your service, product, or something else that came from your company. My advice is: react, explain, help. Often, people who complain and were taken care of become your fans because they feel you care about them and you try to fix their problems.
In the case of a troll, it's more complicated. Remember to never use their language, and to always stay calm and respectful no matter how hard they try to throw you off balance.
It's extremely important to know the difference between the language of trolls and haters, or when it's impossible to make a commenter happy in a reasonable way. And this is what monitoring is made for.
When reaching out to current and/or potential customers via social media or text message marketing, are there any general guidelines to follow regarding verbiage, language, or style?
Social media is vital and changes so fast, but I think we can identify some general rules. First of all, you need to monitor the Internet constantly. It is crucial to remember to tailor your communication to your audience. Do not maintain an air of formality when your interlocutor speaks colloquially, or try to be "super cool" if you work in the financial industry. Always remember to be respectful, informative, and fast.
Once a comment or response is published on the Web, it stays there forever. Let it be your strong point.
Looking for advice on dealing with text message responses? Check out our blog.
text messages
Categories: Group Texting News