Text message marketing is an effective way to reach Millennial consumers. Photo credits: micurs.
Millennials are widely known as one of the most tech-savvy generations. A recent survey estimates that 85 percent of consumers in the 18 to 34 age bracket own smartphones. For businesses interested in reaching this powerful customer segment, mobile marketing is an effective channel. But there are a few important things to consider when trying to reach a Millennial audience. Here are a few ways your business can successfully connect with generation Y consumers in 2015.
Add Mobile to Your Marketing Toolkit
We've already established that Millennials are among the most connected consumers in the world. If you aren't already using mobile marketing to reach this important audience, it's time to get started! There are a few strategies to consider when it comes to connecting with Millennials via mobile advertising. Consider working with a mobile developer to create a text message marketing campaign for your business. You may also want to think about using geo-location to target potential customers in a certain geographic area or exploring in-app advertising for your business. Taking your mobile marketing efforts up a notch can help you connect with consumers in the 18 to 34 age demographic.
Pay Attention to Messaging
Since Millennials are constantly connected, they are exposed to countless marketing messages daily. It's important to spend some time thinking about how to make your business stand out above the noise. Sometimes offering potential customers an incentive can help pique their attention. Consider looking back at your past marketing efforts to see if a particular deal resonated with this audience more than another. Use the information you gather about past campaigns to craft your text message marketing effort. Understanding what messages strike a chord with this particular audience can help you set your business apart from the competition.
Focus on Customization
Another effective way to make your business stand out from others is by personalizing your text message marketing efforts. Millennials (and other generations also) respond well to customized marketing campaigns. Businesses that tailor their marketing efforts by geographic location, address potential customers by their first name, or use past buying and browsing behaviors to customize offers for consumers typically experience a better return on their marketing campaigns. Consider your own experience as a consumer for a moment. Chances are you are more receptive to businesses that are providing highly relevant offers delivered in a friendly way. Personalization is key when it comes to connecting with Millennial consumers.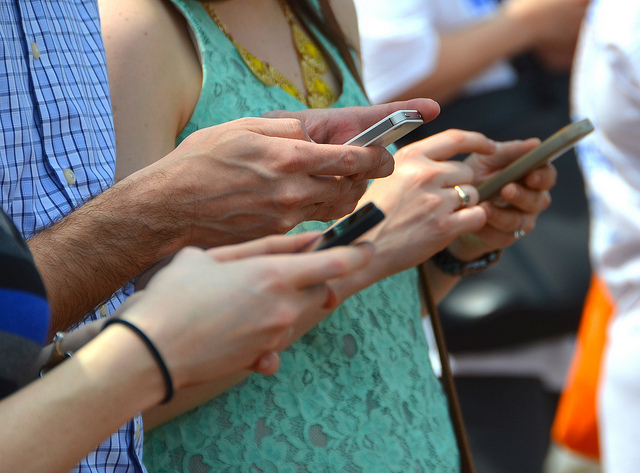 Millennials are one of the most connected customer segments. Photo credit: afagen.
If you are interested in connecting with more customers in the 18 to 34 age bracket through your business marketing efforts, there are a few different approaches you can take. If you haven't already, it's a must to add mobile to your business marketing toolkit. It's also important to pay attention to the content of the messages you are sending to Millennial customers and focus on customization as much as possible. These tips can help you make the most of your text message marketing efforts. If you're interested in launching a mobile campaign, try Group Texting for free today!

mobile marketing, text message marketing


Categories: Group Texting News