As a small business, it's easy to feel like a minnow swimming among the sharks. Fortune 500 companies feel like mythical, amazing companies that feel no pressure and can do no wrong. It might surprise you, however, to learn than many of the Fortune 500 companies face the same marketing problems you do.
Here's three marketing problems Fortune 500 companies have in common with you, and how a successful text message marketing campaign can help you solve them:
Fighting Off Terrifying Competition
The availability of online shopping might terrify you as a small business owner. However, some of the largest companies in the world are beginning to feel pressure against the increasing presence of online shopping. Even grocery stores behemoths like Kroger, operating in an industry less conducive to online shopping than most, are losing sales to online retailers like Amazon. In fact, an estimated 13% of consumers now complete their grocery shopping online.
The key to fighting these giants is by focusing on personalized service. A local grocery store, for example, could utilize a text message service by sending personalized reminders that their groceries could be running low or spoiling, or letting them know when a favorite item goes on sale.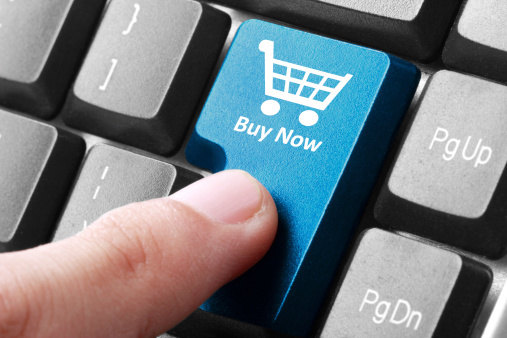 This is the stuff of a physical store's nightmares.
Desire to Keep Customer's Interest
Today's customers are busier than ever, with full schedules and attention spans that are significantly shorter than before. This means that companies have to fight for every second they get with their customers, making every minute they get with them matter.
This is why text message service can be a boon to businesses both large and small. Not only are their read rates much higher than email or other marketing campaigns, but they take up less of your customer's valuable time. Customers appreciate brevity and will respond favorably to the personalized, relevant, quick marketing opportunities that SMS messaging offers.

No wonder our attention spans are shorter!
Proving ROI Immediately
As a small business, you don't have the luxury of waiting a couple years to turn profitable, or generating cash quickly to invest when the going gets rough. It might surprise you, however, that this is a problem many of the top Chief Marketing Officers in the U.S. face, as well. A recent survey of top CMO's found that 80% felt that it was going to be more important to prove their marketing's ROI in the upcoming year than it was last year.
Text messaging campaigns are a terrific way to drive ROI right away. Text messages are sent instantly, have incredible read rates, and can easily be customized or personalized. Because they're much simpler to build and implement than email or traditional marketing campaigns, they can be tracked easily and implemented quickly to take advantage of any opportunities as soon as you identify them.
For even more information about boosting your marketing endeavors with text message marketing, take a look at our previous post here. It gives great tips on how some of the largest companies in the world are using text messaging to drive new business during the critical holiday season.
You may be aware, technology is constantly changing. It is becoming increasingly overwhelming to keep up with the latest craze in telecommunications but, here is an update: SMS surveys to increase customer loyalty.
Companies who utilize a bulk text messaging software are taking advantage of the ability to receive instant feedback about their company. A way to use an SMS survey is to send a few questions to your mass SMS texting contacts list and ask them about their personal preferences for a company. This will then lead to better customer satisfaction once you know what your customers and leads want from you.
Another strategy for your company is to send mass SMS surveys to learn about your customer's habits. By distinguishing your customer's interests, you can develop unique advertising and campaigns targeted at them which will result in more customer spending.
One of the greatest advantages of SMS surveys is that they are simple, not intrusive, can be completed on the go and can even be fun. So be creative when communicating with your customers!
It's 1 p.m. on Wednesday, you walk into a restaurant during your lunch break and realize that you are the only customer in sight. The food is good so you don't understand why it is empty while the chain restaurants nearby have people seeping out of their doors.
As a restaurant owner, you want to have heavy traffic come through your doors during slower restaurant hours and avoid the empty floors. A strategy that is working for restaurants is sending SMS messages through an inexpensive bulk text messaging software. With this marketing tool, restaurant owners can instantly send a coupon or restaurant update to a large customer database.
If your restaurant is surrounded by offices and businesses, it can offer incentives and exclusive discounts if an entire team at a business opts-in to your texting list. With a 25% coupon redemption rate, posting your keyword and shortcode on a sign or ad outside is ideal for your business. Not only will you drive up sales with consumers redeeming the coupons, but you will now be able to send mass text messages with promotions to those who opted-in.
Apartment communities aren't as tight-knit as they used to be. It has become more difficult to gather enough tenants for meeting proceedings as schedules conflict. But, SMS marketing for living communities is on the rise as a way to communicate with a mass of people.
As bulk text messages have a 92% open rate, it is a good choice for apartment complex management to interact with its residents via SMS. By implementing an SMS campaign, residents have access to information on-the-go and are always in the loop about changes or alerts regarding their living community.
Communities are now using mass texting to notify tenants about events in the building, construction, maintenance that may interrupt services, and about emergencies. Since most text messages are read within five minutes, sending emergency notifications about missing children or pets, severe weather, and crimes may be the best tool to reach a large group of busy working people, instantly.
It's holiday season which means it's the perfect time to step up your mobile marketing game. As shoppers frantically search for gifts to purchase, your retail business can alleviate the holiday stress through frequent mobile alerts. This year, savvy business owners are using innovative technology to expand their mobile database by frequently engaging with their customers (and potential customers) about promotions, inventory, and new products through SMS marketing.
Take Best Buy, for instance. It has created a holiday SMS marketing campaign that enables every opted-in customer to receive a daily message with an included link with offers. Additionally, technology like Apple's iBeacon, allows business owners to engage customers on the spot as they peruse the aisles of their store. The iBeacon sends push notifications to a user's mobile device, alerting him or her about an item on sale nearby or providing up-to-the-minute product information.
SMS is a sure way to strengthen customer relationships this season. As a business owner, using these types of holiday campaigns can engage customers to not only purchase on the spot but to also spread the word about your goods.
A new article over at mobilemarketingwatch.com discusses surprising numbers for the smartphone market in the second quarter:
Despite besting Wall Street expectations in terms of iPhone shipment volumes in Q2 of 2013, IDC announced Wednesday that Apple's share in the worldwide smartphone operating system market posted a year-over-year decline during the second quarter of 2013.
In the iPhone vs Android battle, is iOS holding up?
iOS represented just 13% of smartphone shipments in the three month period ending in June. It was a different story altogether for Android, which powered 80% of smartphones shipped globally in Q2.
Is this the sign of a new trend in the smartphone market? Read more about this new report at mobilemarketingwatch.com!
Have you ever wondered whether or not your information is safe on your smartphone? According to this CNET.com article, the government is out to find out just that for the top brands and models, such as Apple's iPhone 5 and Samsung's Galaxy S4.
 The test in question will include the forthcoming Activation Lock feature that will be introduced via Apple's iOS 7, due out this fall.
The test will be used to make sure that the anti-theft features in some of the most popular smartphones are actually doing their jobs.
"While we are appreciative of the efforts made by Apple and Samsung to improve security of the devices they sell, we are not going to take them at their word. Today we will assess the solutions they are proposing and see if they stand up to the tactics commonly employed by thieves," said San Francisco District Attorney George Gascón and New York Attorney General Eric Schneiderman.
Read the rest of this interesting article on CNET.com!
We've all run into the problem of setting your cell phone to "silent" only to later realize that you've misplaced it. According to cnet.com, Android users now have access to a new app that can help resolve this common problem:
Download and install the free Android app SMSAlarm, which offers the rudimentary yet essential option of texting your phone a secret message to elicit a loud alarm. The app is about as elementary as you can get, and that's how I like 'em.
Though, there is a slight hangup with the app:
There's no alarm customization, and it's pretty loud, but better too loud than too soft. I would expect any future versions of the app to address that customization hole.
But hey, better to to have a rigid solution than no solution at all! Read more about this new phone finding app at cnet.com.
The concept of  a smart watch has been thrown around for quite a while, but is it finally time for them to catch on in reality?
Pebble, a Kickstarter darling, raised more than $10 million and racked up 85,000 orders.

Pre-order priced at $150, Pebble has a 1.26-inch backlit e-paper display and a resolution of 144 x 168 pixels.

Instead of a touch screen, this watch comes with four buttons that control screen options, menu selections and such.
But will this prove to be nothing but another quick-passing fad? Companies are putting a ton of money and detail into smart watches, so there's potentially a lot to lose:
Once connected to your smartphone, the Strata is capable of Caller ID notifications, message alerts for calendar appointments and text messages. The Strata also has widgets for weather, calendar and Gmail.
Will the trend hold up? Read more about this new technology at MobileMarketer.com!
So it looks like Google Hangouts may soon be adding SMS to their platform:
Included within the list of permissions for Hangouts for Android are requests to read and send text messages (as Google+ user Kenny Strawn noticed). That Google is already asking for permission to do these things is an indication that support may be coming, since the app doesn't appear to use a device's text messages at this point.
Will this pose a threat to iMessage? Find out more about the story at The Next Web.